Welcome to the Starship Troopers: Evolution Wiki
[
]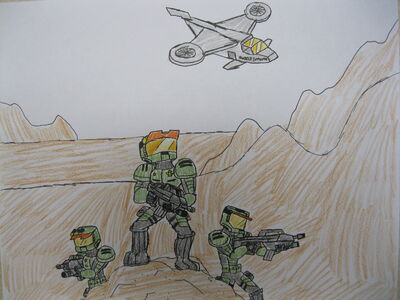 This is the official wiki for the online graphic novel, "Starship Troopers: Evolution", a comic series created by ScoutSpartan157 on the website DeviantArt. This wiki will help to explain the universe of the Starship Troopers comic.
NOTE: Starship Troopers Evolution is a comic series based off of the trademarked Starship Troopers novel (Written by Robert A Heinlein 1959), movie (Directed by Paul Verhoeven 1997), and animated TV series: Roughneck Chronicles (Executively Produced by Paul Verhoeven 1999). The comic series is also heavily inspired by the Mobile Bloxxers, a group on the ROBLOX website founded by former Sky Marshal Wordsarecool.
[This wiki is still in progress. Stand by]

Would You Like to Know More?
Visit
http://scoutspartan157.deviantart.com/gallery/45808991
(Deactivated) for illustrations and designs of what will be in Starship Troopers Evolution. Many of the images that will be on this site will originate from the given link. The comic will also be posted on the same site by the same user. The approximate date for when the comic will start is on June 6, 2014.